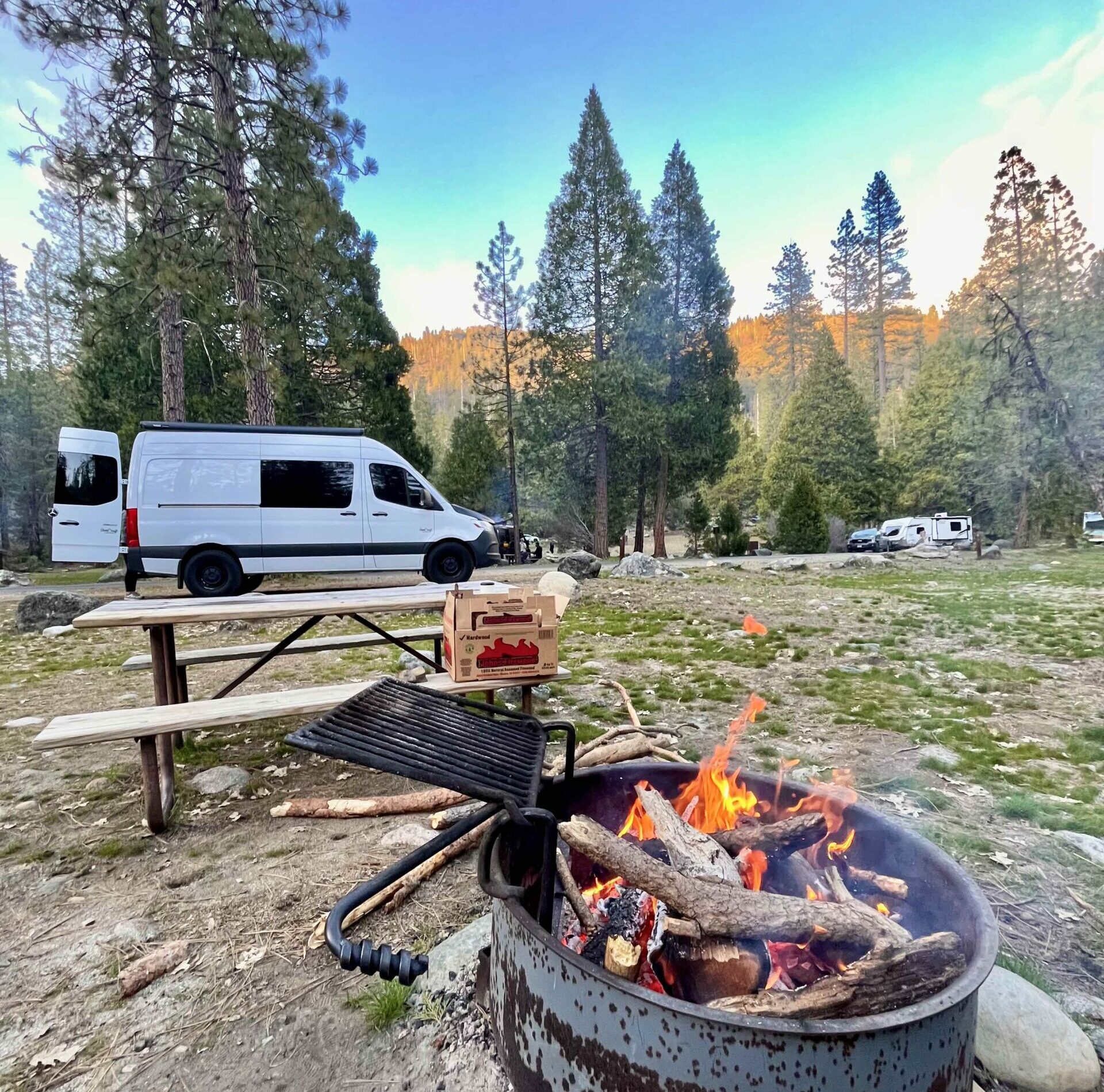 15 days in California • Road-Trip with VanCraft
DESTINATION CALIFORNIA: BETWEEN DESERT AND SNOWY PEAKS !
ROAD-TRIP: 16 DAYS TO EXPLORE CALIFORNIA
A van road trip through national parks and iconic cities on the West Coast of the USA: from San Diego to San Francisco, passing through national parks.
Are you looking for the unexpected, adventure and freedom?
Do you want to discover the USA, but aren't sure whether to rent a van or a car? There's nothing like the van experience for a change of scenery and a feeling of freedom! Join me on my first road trip to California with Van Craft.
Follow us on this adventure and discover the luxury road trip with Van Craft. 💙
The van is the ideal travel companion for adventurers who like comfort, I was able to take advantage of this vacation to run around in the great outdoors in some truly grandiose settings !
Discover Van Craft
Why did we choose the van?
After comparing the prices of car rental companies, local accommodation and bulky, gas-guzzling motorhomes, the van seemed like the best solution. It's also easy to maneuver, and allows us to have a kitchen inside, so we're not left out in the cold when we're in the mountains and the weather's bad.
In short, the perfect travel companion, superbly equipped.
Short Wheel Base equipment:
● 👩🏻‍🍳 Small fridge, gas cooker, stainless steel sink inside
● 🚿 Shower with small hot water cumulus and mat
● Sleeping 🛌 up to 4 (2 inside and 2 with the roof tent), the bed is so comfortable, with a memory foam mattress!
● Roof fan: above the bed gives us air at night without having to leave the whole van open.
● Linen (bed, towel): everything was ultra clean!
● Battery-powered heating (the autonomy is just impressive)
● Kitchen utensils, crockery and cleaning products.
● Chairs and outdoor table 😎
● Plenty of storage (closet, extra-large trunk).
● Snow chains ❄️
● Bluetooth connection to listen to your music or podcast 🎶
● Bike rack 🚴🏻‍♂️
Where to sleep in a van in the USA?
I recommend the iOverlander app to find free locations around you, tested and approved by other travelers. This app works without a network! Detailed descriptions, photos, GPS coordinates and practical info are available for each spot (places to fill up with water, dump stations, propane recharging points, showers, road conditions to get there, Wifi point, telephone network, view, prices for spots that aren't free, etc.).
Maps.Me is also a great app for detailed information, entirely offline: shops, restaurants, laundromats, pharmacies, parking …
Our itinerary: California's must-see places
Night 1: Laguna Beach
We picked up the van in San Diego and drove along the coast to Laguna Beach, 1 hour from the warehouse. We were exhausted from the drive and the spot was great!
The next day we visited Los Angeles, and I took the opportunity to run along the oceanfront at Venice Beach. Famous for its beaches, street art and ultra-relaxed atmosphere. The perfect place to soak up the sun, the waves and the Californian atmosphere worthy of the movies!
Nights 2 and 3: San Francisco
Our next stop was San Francisco, where we drove over the iconic Golden Gate Bridge. I was quite shocked by the poverty and the presence of drugs next to the skyscrapers and the business district… it's to be expected.
Otherwise, the Chinatown district is really nice, and I'd recommend a day trip there. I was able to run in Golden Gate Park in the morning, it's the perfect spot for a little run before brunch 😋
We got to see the « sea lions » at Pier 39, it was crazy to see them so close to the city!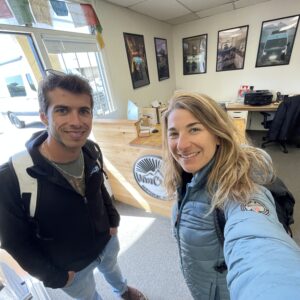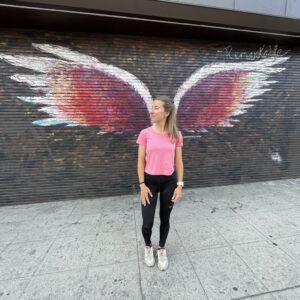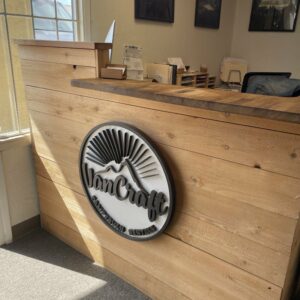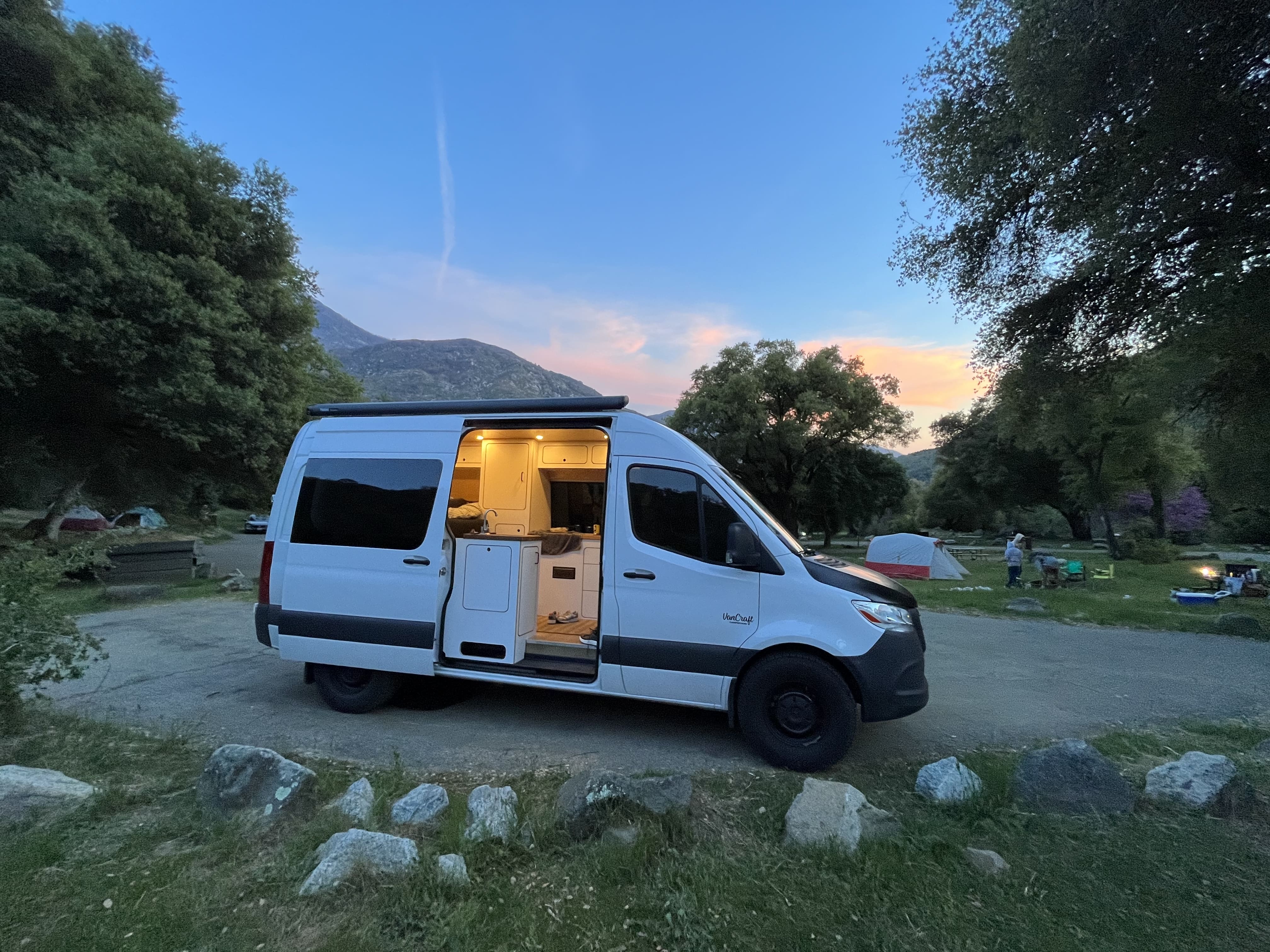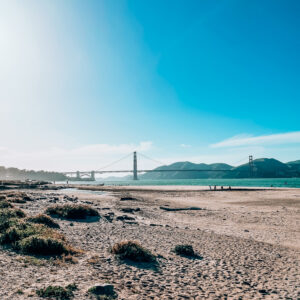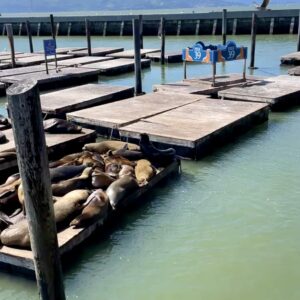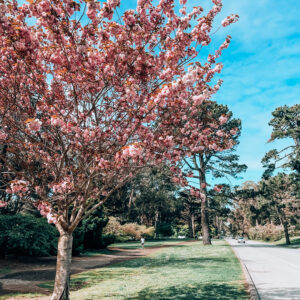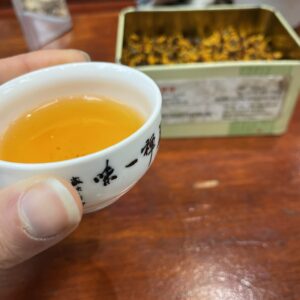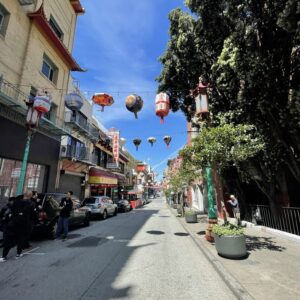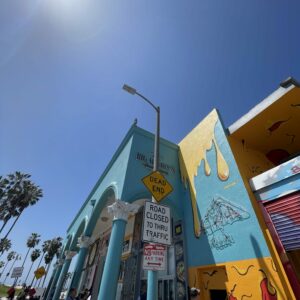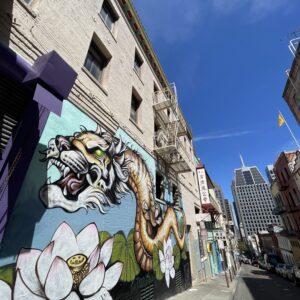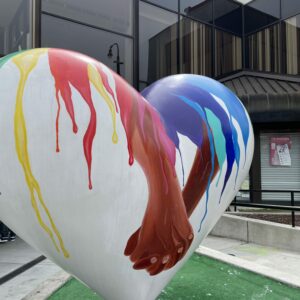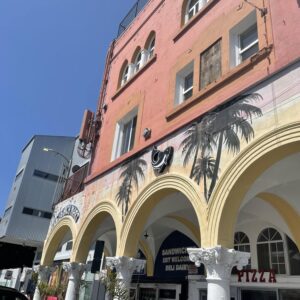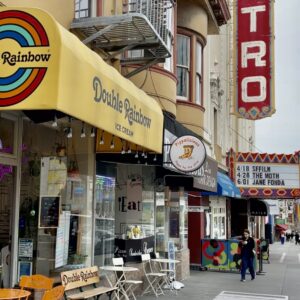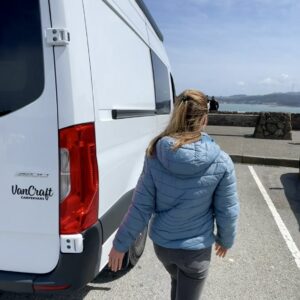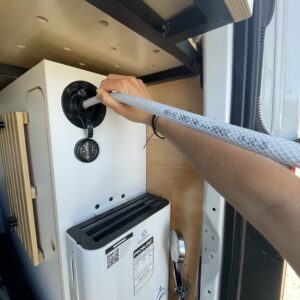 Night 4 – Yosemite National Park
Hogdong Meadow Camp
We booked our site online, but it's better to book in advance on the Recreation.gov  website. This site was a real favorite! ❤️
We woke up under the snow, it was just incredible, the landscapes are really breathtaking. The little space heater wasn't too much!
After a trail run in the morning, we went for an afternoon hike in Yosemite Valley: El Capitan, Mirror Lake, Half Dome… there's so much to see!
Nights 5 and 6 – Yosemite National Park
Wawona Campground
1h after Yosemite Valley, this little riverside campground was magnificent!
Morning run in the Redwoods district, the atmosphere is super friendly.
In the evening, we got into the habit of building ourselves a little campfire – wood is readily available in the area. There are lots of trails in the area, and for trail and hike lovers, it's just magical.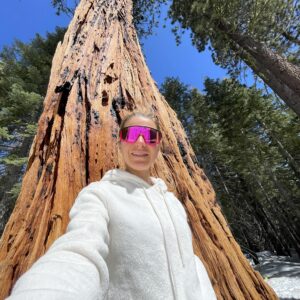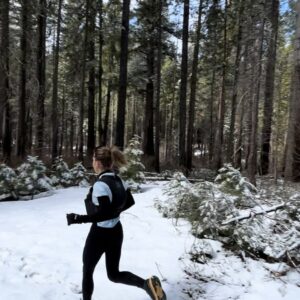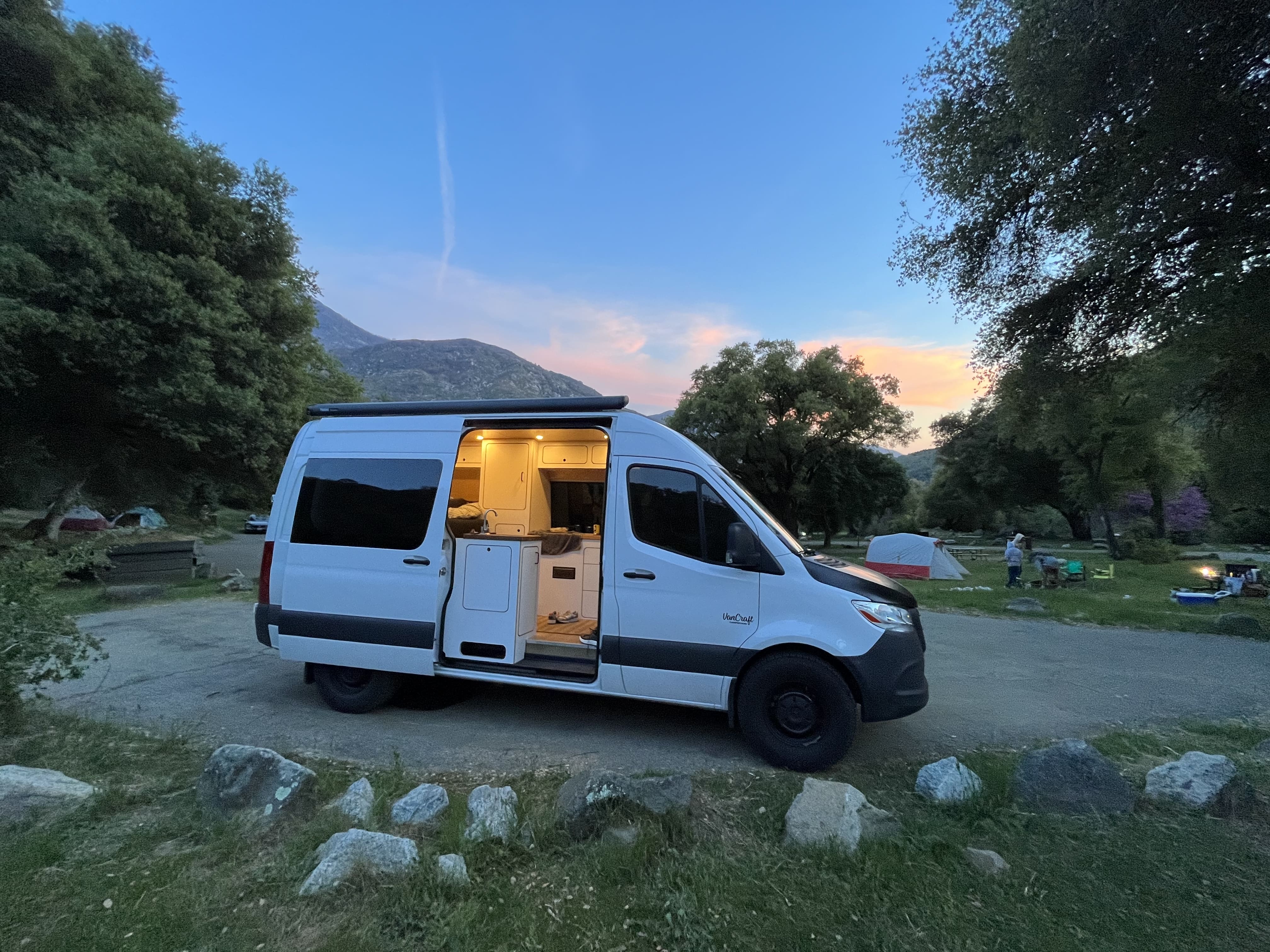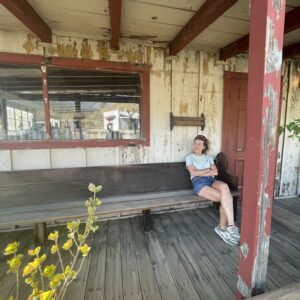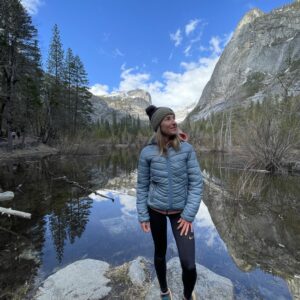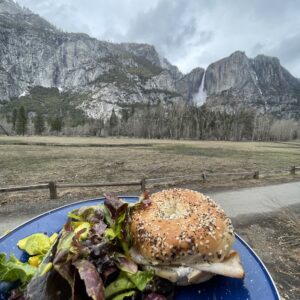 Nights 7 and 8 – Sequoia National Park
Potwisha Campground
Part of the road to see the giant Sequoia trees was closed, but we were able to take advantage of other trails in the area. I ran all the way to Hospital Rock, it was beautiful in the flowers! We had no network, cut off from civilization, nothing better to disconnect.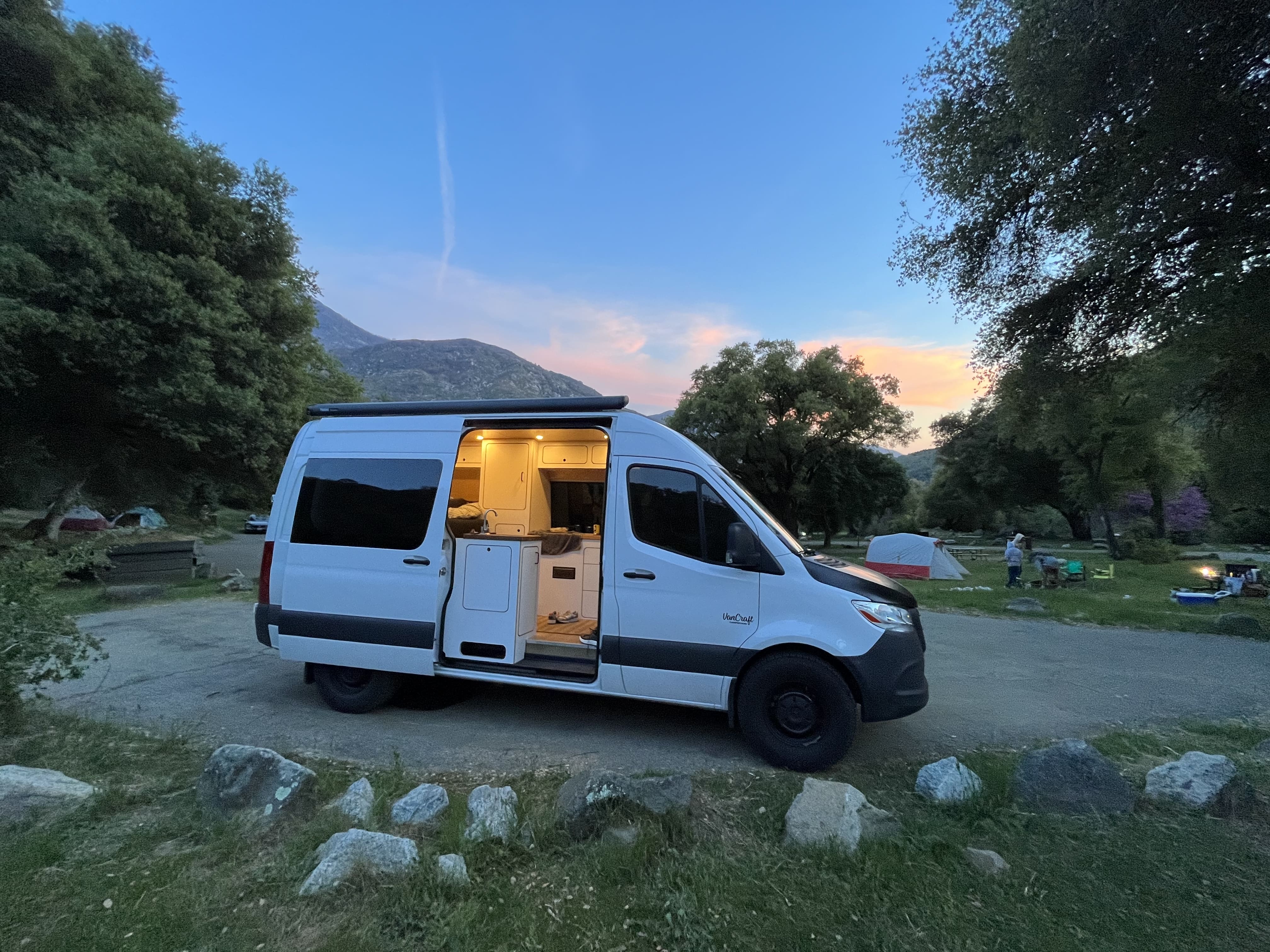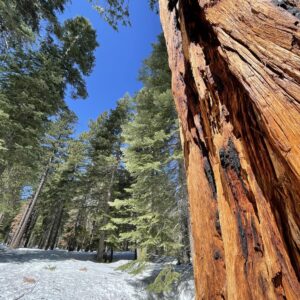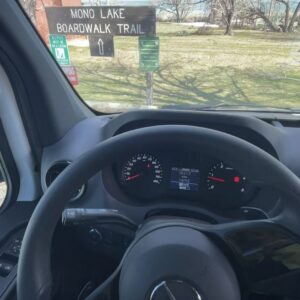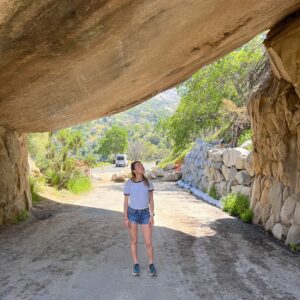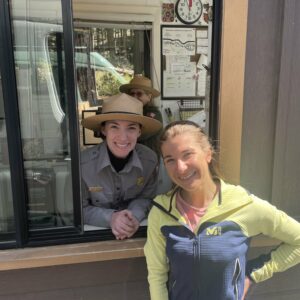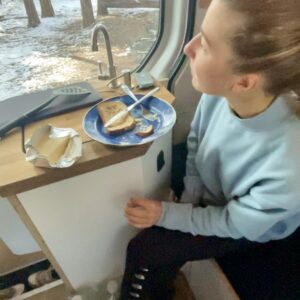 Night 9 – Lake Isabella
This spot was just incredible, we were all alone, by the lake, a perfect stopover. It's crazy to see all these landscapes, California is full of contrasts between highly urbanized cities and vast wilderness 😍
Night 10 – Death Valley
It was really incredible to see this desert, the colors, the dunes, badwater (the point lower than sea level). I'd recommend going there, the heat is harsh but the scenery is worth it.
Night 11 – Mammoth Lakes
From desert to snow
Change of scenery: we're at 2800m altitude, in this incredible ski resort! There's been record snowfall this year, with the resort scheduled to close in July 😅 up to 2 meters of snow in just a few days!
We ate in a great Mexican restaurant, I recommend you try it, you won't be disappointed 🌮 It was Robertos Café !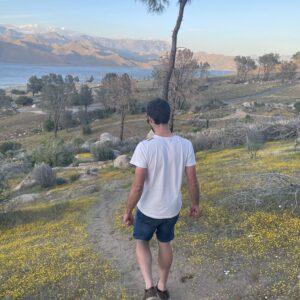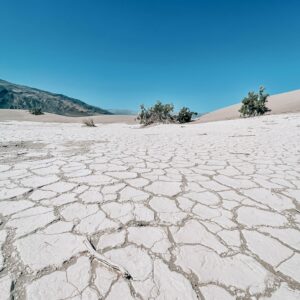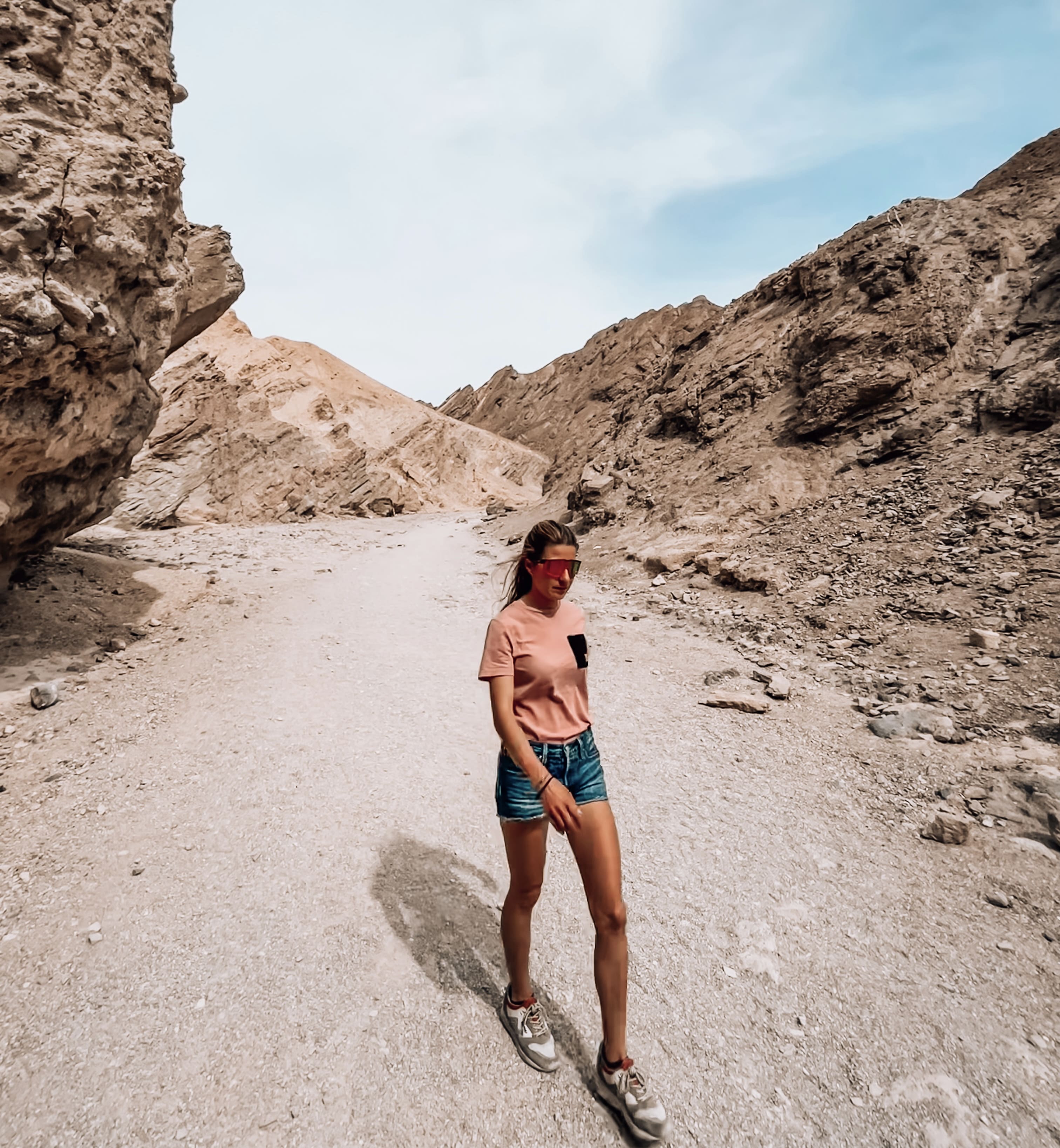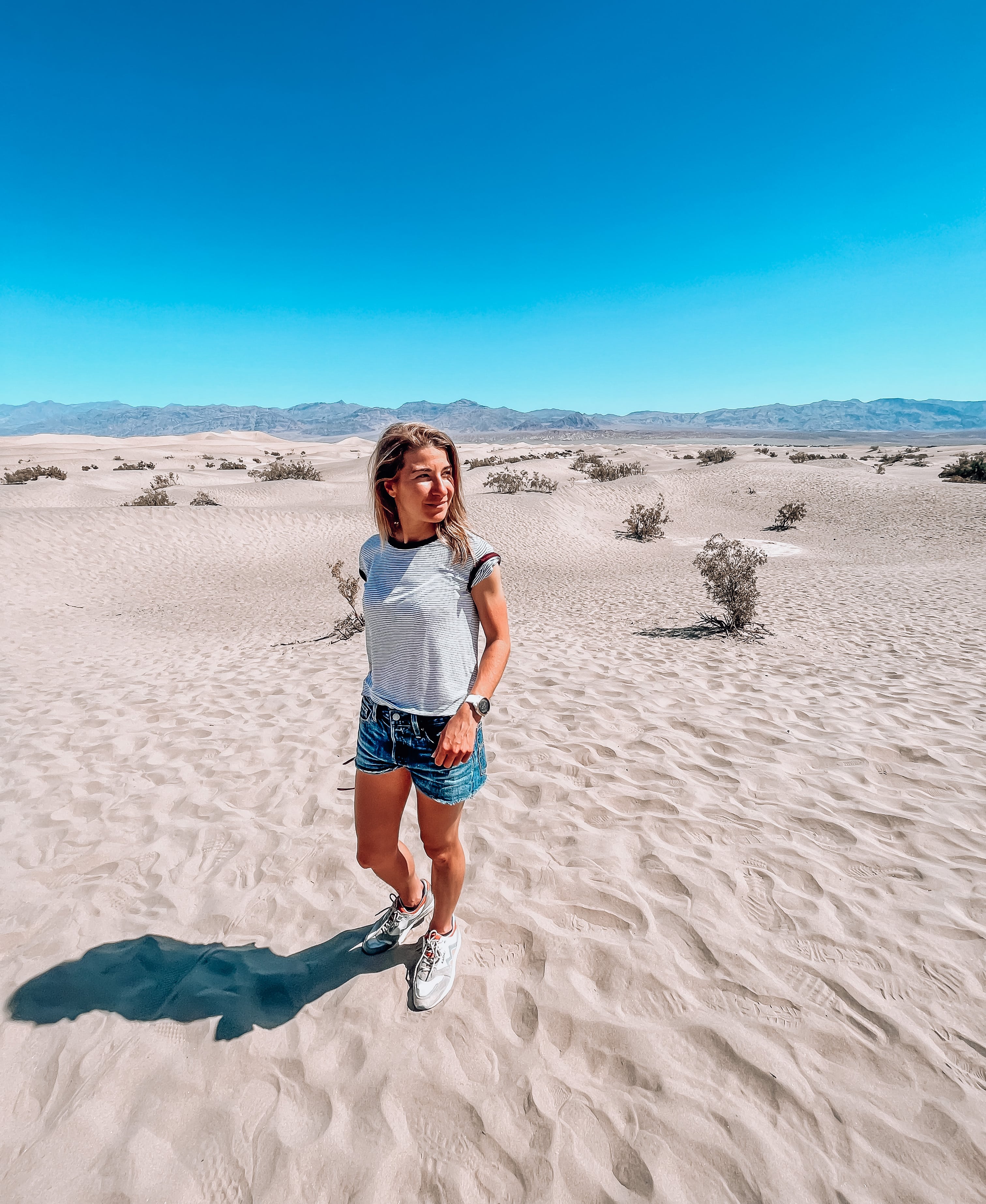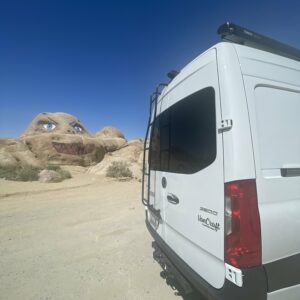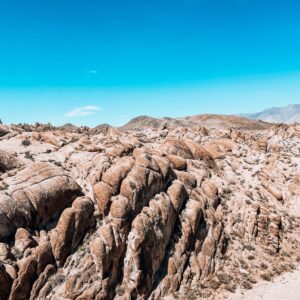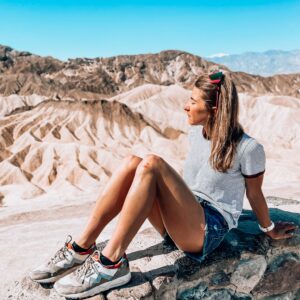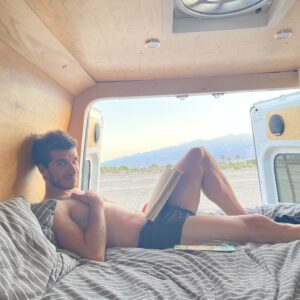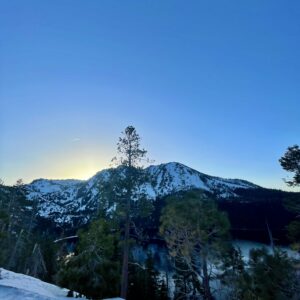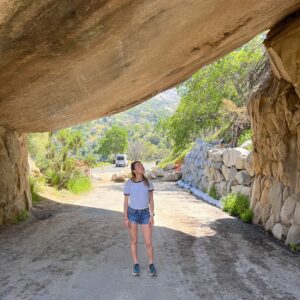 Night 12 – Lake Tahoe
Finally, we ended our trip on a high note with a visit to Lake Tahoe, a magical place surrounded by majestic mountains. To get there, we drove along the movie road in the Alabama Hills, also known for its free camping sites. You can admire the view of Mount Whitney ⛰ the highest peak in the United States.
We passed by Mono Lake, a salt lake in the Sierra Nevada desert, with limestone formations rising out of the water – it's pretty incredible! A stop at Emerald Bay was a must, and I wish I could have stayed longer, it was so magical. One of my favorites ❤️
I was able to run along the edge of the lake; it was incredible, and we even saw a bear on the side of the road!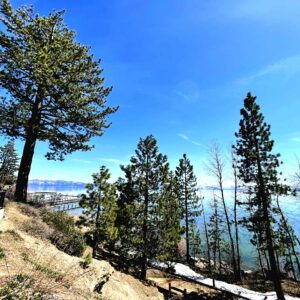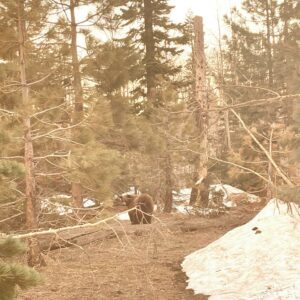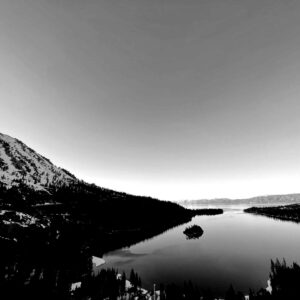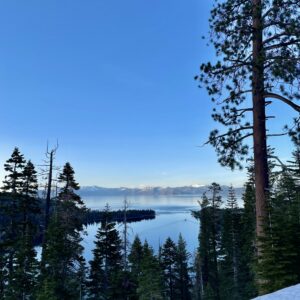 Night 13 and 14 – Auburn
Lotus camp
This campground was so charming, real countryside, we were right on the river, overlooking fields of flowers. A lot of people go horseback riding out there.
My boyfriend and I continued to trail ride. He was taking part in the Canyon Endurance Run, a race organized by UTMB, so we wanted to get closer to the start. He took the opportunity to rest while I went for a run to discover the trails close to the campsite.
I really appreciated the American mentality, always warm, smiling and super-helpful, it feels good to be surrounded by positive people 🥰
Night 15 – Hungry Valley near Los Angeles
It was so unexpected to come across this campsite, the spot for buggy lovers! This spot is 1 hour from Los Angeles, in the middle of nature, very safari atmosphere, if you have time there are some walks to do around. 🏜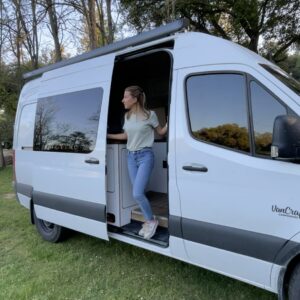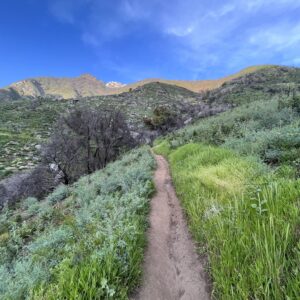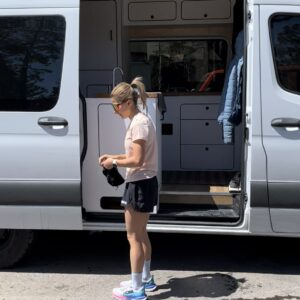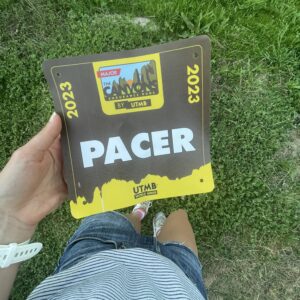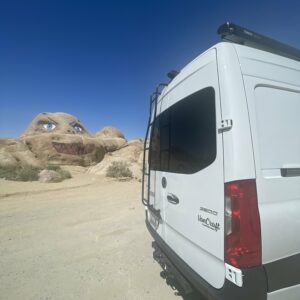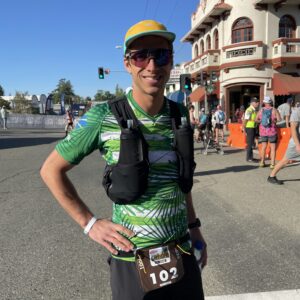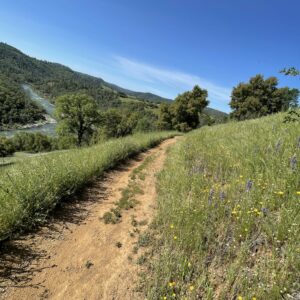 This road trip allowed me to discover the incredible landscapes of California, the perfect place to continue training. The perfect destination for trail runners, this trip was unforgettable. We loved this itinerary, not too much road, enough time to enjoy each place while seeing so much!
One thing's for sure, it's made me really want to go back next year and do a race 🏃🏼‍♀️😍
Thanks again to VanCraft for this superb experience, I've become a real fan of van road trips!
See you soon for new adventures!